Spinning rods are a must-have for all types of freshwater and also sea fishing. You don't need to spend huge amounts of money to get great usable spinning rods. We have reviewed the 10 best spinning rods for 2022 and the best news is that all are affordable and under $100 in price.
Our 10 Best Spinning Rod Picks for 2022 under $100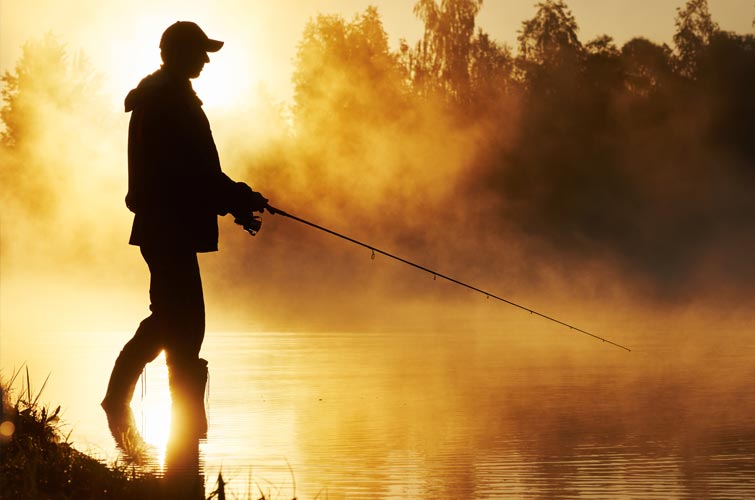 Ugly Stik is one of the best-selling spinning rods. The elite spinning rod is made with 35% more graphite than its previous models. So, what can you expect from the extra graphite in the body? Strength and better sensitivity. Your prey will have nowhere to escape to the moment it touches the bait as you will know and take action immediately. Moreover, the core is made of both graphite and fiberglass, so you will find the rod quite lightweight, strong, and also sensitive. Apparently, you can use it for various purposes and for catching moderately heavy species. The reel seat is quite sturdy and strong and can handle the moderately-heavy species really well. Furthermore, you will feel comfortable and enjoy fishing for hours as the handle is super comfortable being made from cork. However, some customers considered the rod to be a bit unbalanced feeling the handle to be too heavy.
The stainless steel guides were also a source of some dissatisfaction for some customers as they caused damage to the braided lines easily.
With a few cons that can be easily fixed and will not always be there, this rod is otherwise one of the best available at this price.
Want to keep fishing in the rain but worry that the rod might feel too heavy? Worry no more because if you take the GX2 rod with you, it will provide no extra weight even under the rain. While being perfectly lightweight in normal conditions, the GX2 has an EVA foam handle that is not just comfortable to use for long sessions but also in the rain. Apart from that, it has a construction of both graphite and fiberglass. While it does not provide as much sensitivity as a complete graphite rod would have, it does not break as easily as a graphite rod would either. So, you get moderate sensitivity with increased strength and durability thanks to the fiberglass. The clear tip designs also help in this case.
Apparently, the rod feels very lightweight and you will be able to catch prey weighing from 1/8 to 5/8 Oz. Other than that, you can target moderate-sized species easily thanks to the medium-action reel. While most of the features of this rod are satisfactory, many are not happy with the guide material. The stainless steel in the guide, apparently, is not the most efficient material for it. Because braided lines will either be destroyed by it eventually or will destroy the guide itself sooner or later.
Looking for a well-built spinning rod with a great overall feel and casting ability. The KastKing Perigee can handle much more than you would expect. Carbon fiber tip and Fuji O-Ring guides throughout make this a high-quality spinning rod for a budget price.
One of the best travel spinning rods available on the market. Premium quality nano-carbon road blank which easily fits inside your suitcase when traveling. The graphite reel seat, EVA handle, and silicone eyes all make for a great quality travel rod.
Do you know how things perform better when tailored to meet just one main purpose? Well, even if you don't, you will now. Apparently, this is a rod that has an entire graphite core. This allows the rod to be highly sensitive. And, do you know what highly sensitive rods are good for? Lake fishing for small fishes. So, it may be because you have a lake close by or you love fishing for smaller fishes that are more difficult to catch but can be caught in plenty, that you need this rod. One thing we can assure you is that this rod is great for trout fishing! It is super lightweight and has a light action as well. The light action enables it to be more flexible and deal with the smaller fishes the way they should be dealt with.
However, this rod is only great for lakes with no currents and small species. If you want to catch bigger or medium-sized species it is best to choose other rods as these rods will break under the pressure. But, for trout fishing, it is highly reliable and even the aluminum oxide guides are lined perfectly. The stainless steel hoods in the reel seat also make it durable and efficient. Furthermore, you won't want to leave the water anytime soon as the cork handles will keep you perfectly comfortable during your escape.
A great choice for Bass fishing, Berrypro spinning rods are constructed with full 20-ton carbon fiber and x-carbon technology which gives the rod an incredibly lightweight feel.
Stainless steel guides and ceramic rings make for a very smooth and resistance-free between the line and the rings, also great for longer casting.
This is another graphite rod that is dedicated to providing you with the best sensitivity. While it does that perfectly well, you do not have to worry about it being too fragile to break easily. In fact, it offers the strength you need for the purpose at hand. However, you have to use it wisely and appropriately. No matter how strong, it is still a graphite rod and not strong like a fiberglass one. So, keep in mind the weight limit of both the species and the line which are considered satisfactory, and use it accordingly.
While using it on heavier lures will not let it be as durable as it is meant to be, you will find it to be a very strong, sturdy, and durable rod if you use it properly. In fact, you will be able to use the cork handle comfortably while the handles promise to be chip-resistant and durable for you. Moreover, the guides are made of stainless steel and not just lightweight but also corrosion-resistant and strong. So, you see, you will have a great day with no pressure on your hands and also not much warning for your lures underwater. However, many customers do recommend replacing the guide with better ones as they did not find it to be good enough for various reasons.
If you are planning to fish for hours and want a fishing rod that will give you full support to do so, the St. Croix Triumph would be a great choice. Apparently, the feature that each and everyone liked who bought this rod was its lightweight. You will enjoy sitting and fishing for as long as you want to with this rod thanks to the lightweight. Moreover, the lightweight and the premium SCII Graphite core provides it a sensitivity you cannot escape from applauding. It will deliver even the softest touch to your senses for you to take action. As for its own action, it has a finely tuned one with tapers for superior performance.
You will get a number of rods with various tension limits to choose from so you can find the rod you need for your kind of fishing easily. Furthermore, the rod has hard aluminum oxide guides which make the guides durable and efficient. Apart from that, the reel seat has frosted silver hoods for the spinning models. The whole rod has a two-layer flex-coat that not only gives it a stunning finish but makes it durable as well. Apparently, it features a cork handle which makes it even more comfortable for use in longer fishing sessions.
Looking for a great quality rod that is versatile enough to serve any of your purposes? While just one may not be suitable for all the species you plan to target and all the water bodies you want to fish in, the CR5 does offer you quite a range of sizes, actions, and power to choose from. In fact, you get to choose from 16 different lengths and action combinations. If you were having trouble looking for the perfect rod for yourself, chances are you will find that one of the CR5 rods suits your purpose. All the rods have a 30-ton carbon core. This not only makes it lightweight and balanced but also very strong. You do not have to worry about it breaking in half when you fish in streams. Furthermore, the guides are stainless steel guides with SIC inserts. You will also get a Fuji reel seat that will never make you feel unprepared or wobbly when fishing. The handles are made from a combination of cork and EVA foam that makes them both comfortable for long-time usage and durable.
In fact, you will have fun catching both gamefish and fresh-water species with this amazing rod. Its light weight combined with the efficient and smooth action will provide you with an experience that you will always crave.
The ENTSPORT E Series spinning rods are designed and built for superior performance and are suitable for saltwater and boat fishing. With premium-quality graphite for better sensitivity and increased pulling power. An enhanced stainless steel reel seat with a screw-down cushioned aluminum hoof keeps your reel securely in place at all times.
---
Buyers Guide For The Best Spinning Rod Under $100
Here are some useful tips and things you should consider when deciding on what sort of spinning rod you need to find the 10 Best Spinning Rods Under $100: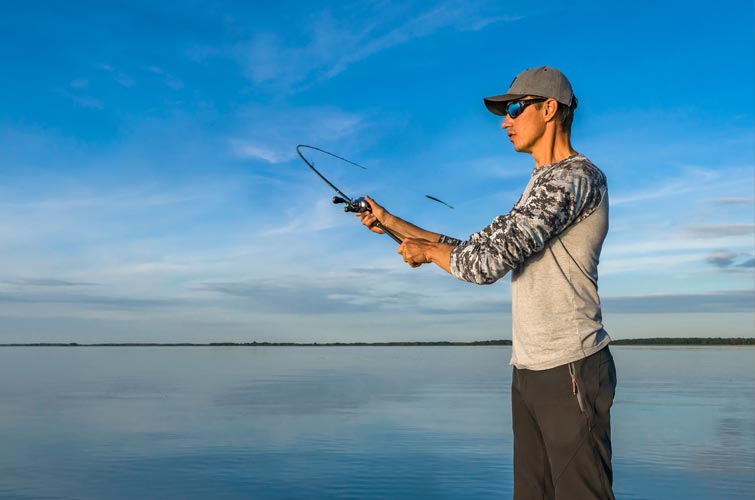 Where Will You Be Fishing?
Well, this is something that becomes quite evident when you answer the first question. When you are fishing in smaller water bodies with lesser currents like lakes, you will be facing smaller species more. So, in such kinds of bodies, you do not need a rod that can withstand whirlpools, do you? Because there is barely any current at all. On the other hand, when you are fishing in seas or other strong bodies, you have to take a rod that can handle both the current and the bigger fishes.
What is Your Rod Made Of?
In general, the blank or core of spinning rods is made of fiberglass or graphite. Both are quality materials but you will find that they excel in different ways. Firstly, a fiberglass rod will give you the durability and strength you require but you might not understand the cue to action as it is not very sensitive. Secondly, graphite rods are highly sensitive but they are prone to get bruised or worse, broken. So, fiberglass is a great option for cases where minimum casting and sensitivity, and maximum strength are required. For example, when you need to catch a big fish. In contrast, graphite rods come handy when you need to feel the slightest touch of the prey.
However, rods made of both graphite and fiberglass are being manufactured now. While they are a great option to have if you fish random species, for other cases the individual materials provide the best performance.
How Comfortable And Efficient Are The Handles?
When it comes to fishing, you need both patience and time. And, it is very hard to be patient when you are not comfortable. So, make sure, the main part where you are in contact with your rod- the handles is comfortable for you. Spinning rod handles are usually made of EVA foam or cork. Both are good options but EVA foam resists stains and is more comfortable for longer sessions. You will also find better rods that feature both the materials in their handle.
Apart from that, you should opt for rods with a lesser foregrip. Because. The lesser the foregrip, the more sensitive you are to slight movements as you have to keep a part of your hand on the rod blank.
The Efficiency Of The Reel Seat:
If the reel does not work properly, a spinning rod is completely useless. And, a reel will never work properly if the reel seat cannot hold it right. You will feel and understand the frustration of a loose reel only when you deal with it or have dealt with other mechanical tools with loose parts. So, when you choose or check the reel seat, make sure it accepts a variety of reels and fits perfectly when tightened. Furthermore, the reel seat has to bear a lot of stress as it is at a junction. So, you should be certain that the reel is strong enough to handle the strain and also durable.
The Reel:
It's obvious that after checking out the reel seat, you have to find the right reel. When it comes to the reel, you have to see if it is right for the reel seat, if the style suits you and if it's capable of accommodating the line. Generally, you have to fit smaller reels with lightweight rods and medium reels with heavy-weight ones. It's not even a rule but common sense. As for the style, you can choose a closed-face type or the open-face one. Lastly, check if the reel can accommodate the complete length of the line you are willing to use.
The Length And Weight Of The Rod:
These factors depend on our first two questions about where and what will you be fishing. If it is the smaller species in the smaller, calm water bodies, a long and lightweight rod will be alright. This is because the longer rods help you when casting. And, the rod does smaller species need the casting to be captured. On the other hand, you will need shorter and heavyweight rods to catch the larger species. Because the shorter length and more weight provides the stability and strength needed to deal with the larger species. Apart from that, you can choose average lengths with average weights to suit multipurpose fishing. However, results are best when you use a specific rod for a specific place and species.
The Rod Action You Need:
In fact, the rod action is something that will tell you how much pressure the rod can take and how fast will it return back to its normal rest position. The material, length, and taper, everything affects the rod's action and therefore the consequential name of this feature. There are basically three types of actions you can choose from- fast, slow and moderate. The fast action rods will bend at the end part of the rod's length; therefore, it is quite flexible and can handle currents. Moderate action rods bend somewhere near the mid-section of the length. Therefore, they are suitable for medium-sized species found in moderately calm water. Lastly, the slow action rod bends throughout the whole length making them a great choice for long gentle casts. However, it is completely upon the user which rod suits him best in any condition.
The Line:
You have to choose the line with the right weight for the rod. Apparently, the rod will tell you the maximum weight, usually in kilograms, of the line that is recommended for it. Based on that you choose the line. Then, you have to consider the line's length and material. Nylon is a popular material for lines and what length of it you need completely depends on you and where you are fishing.
Durability And Price:
With the myriad of rods available, you will definitely find one that provides the best value for the price within your budget. However, you have to look hard to find that special one like you have for your life partner. So, the price is not much of a concern when it comes to rods but durability is. Whichever style, type, and specifications of rod you select, you have to make sure that you will be able to use it for a considerable amount of time. If you just cast half of your rod with the line in the water, it is not really worth it, is it? So, keep a sharp eye on the build and materials and at times the company's reputation too.
Some of the links in this post are affiliate links. This means if you click a link and make a purchase we will receive an affiliate commission at no extra cost to you.