Selecting the best running shoes for flat feet can be difficult, with so many options. Comfort is critical, especially for flat feet.
There are countless running shoes today; neutral, super-cushioned, minimalist, barefoot, and then the shoes with stability and motion control. These are notably the shoes recommended for athletes with flat feet or for those who overpronate.
Runners with flat feet should consider buying a motion control or stability running shoe; the technologies incorporated into these shoes help balance, shock absorption and keep you running pain-free.
We have reviewed running shoes for flat-foot runners in 2022, featuring critical cushioning, stability, and durable components that all add to the perfect running shoe.
Best Running Shoes For Flat Feet in 2022 – Men's
---
ASICS Men's Gel-Kayano Running Shoes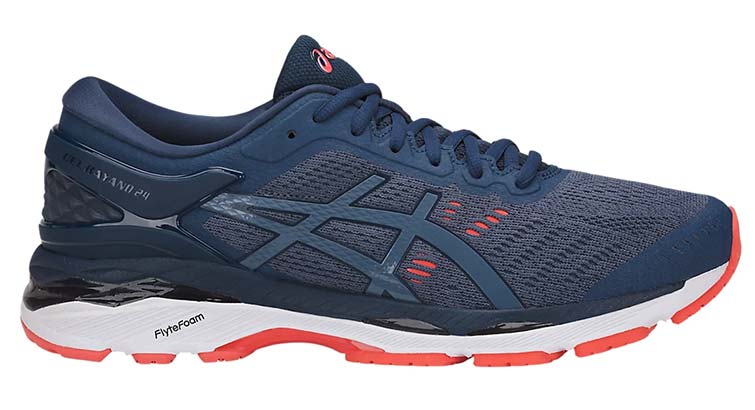 Asics has many features that make the Gel-Kayano a light and comfy fit. A reinforced heel helps with support and fit, followed by the Guidance Line Technology to enhance midfoot arch support and stability. These Asics running shoes have a stretchable upper mesh in vibrant colors that will adapt to your feet yet are strong enough to provide an exceptional fit. These stylish performance-enhancing sneakers have superior cushioning for an effortless bounce with each run. Many flat-footed runners have wider feet, which this shoe accommodates well; the downfall to these running shoes is that the toe area can have a tight fit making these shoes a bit uncomfortable depending on your feet size. Try half a size up with this issue, which will help resolve the closed-toe box. When looking for options for flat feet, the Asics Gel- Kayano has all the characteristics you would ever want in your running shoe.
Pros
Fantastic Arch Support
Exceptional cushioning
Comfortable for extended wear
Cons
The toe box can be on the small side
---
Brooks Men's Beast Road Running Shoes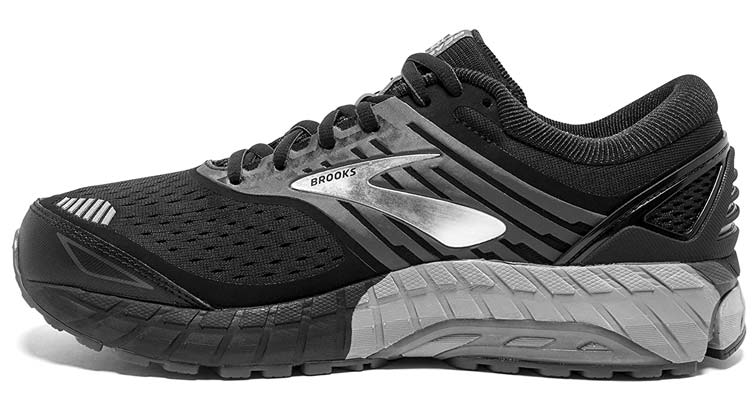 The Brooks Beast is a stylish running shoe designed for male flat-foot runners. These shoes are a favorite bringing a full-length crash pad that contributes to a smooth heel-to-toe transition. The Brooks Beast incorporates The Super DNA flexible midsole cushioning, making the shoe feel very comfortable. The breathable upper mesh provides your feet with an excellent relaxed fit. The Brooks Beast running shoe is the most stable shoe in the Brooks line of running shoes providing exceptional support to the runner. These shoes bring all-day supportive comfort for short and long runs with the motion control arch support and never failing stability.
Pros
The shoe is supportive yet provides plenty of comfort
Cons
The shoe tends to run half a size smaller than your standard sizing.
---
New Balance Men's Fresh Foam 1080 v8 Running Shoes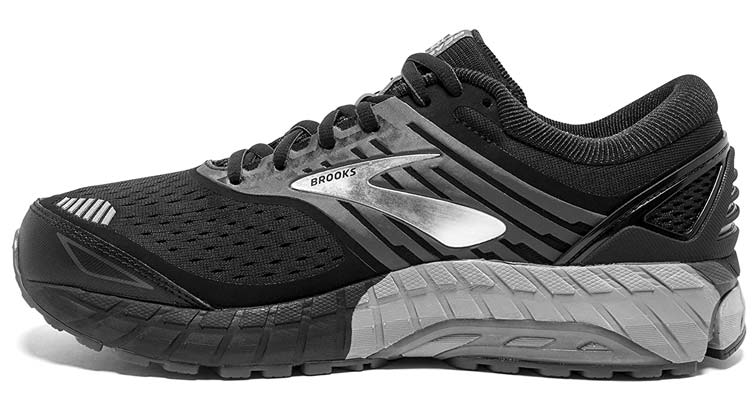 The New Balance Fresh Foam 1080v8 shoes offer Ortholite Premium Insoles superior comfort. New Balance has provided impact-absorbing technology to cushion every step for a comfortable ride. Even in slippery wet conditions, these shoes perform wonderfully with their brilliant traction helps to keep your feet firmly on the road. A Breathable upper mesh has an integrated foam collar, allowing these shoes to offer a secure feel. The New Balance 1080v7 is a brilliant high-mileage shoe choice for runners who have flat feet.
Pros
It fits true to size
Provides excellent support
Roomy toe-box
Cons
The shoe may run narrow
Heavier shoe
---
Brooks Men's Ravenna Running Shoes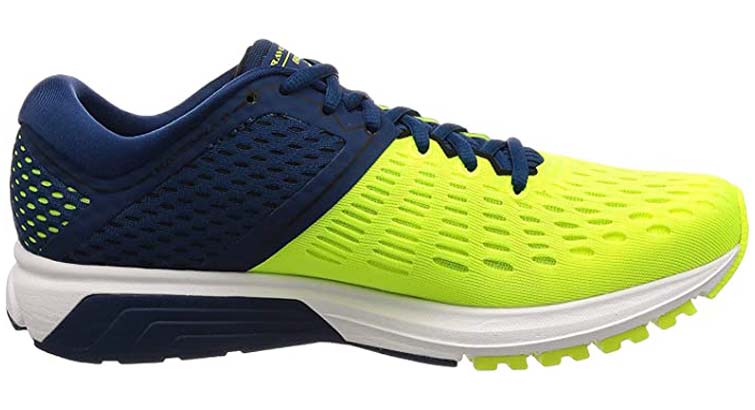 Add some spring into your steps with the BioMoGO DNA featured in Brooks's Ravenna 9 running shoe. This shoe delivers brilliant all-around comfort in a low-profile and lightweight shoe. The Brooks Raveena has excellent stability and significant arch support, an essential characteristic of running shoes for flatter feet. The rollbar allows for optimal support and a secure midfoot fit keeping your foot from moving around during a run. The sleek and stylish design, durable construction, and colorful mesh upper containing additional supports make these shoes a hit with many runners.
Pros
Cons
Some runners feel the shoe can be too narrow
---
Saucony Men's Liberty ISO Running Shoes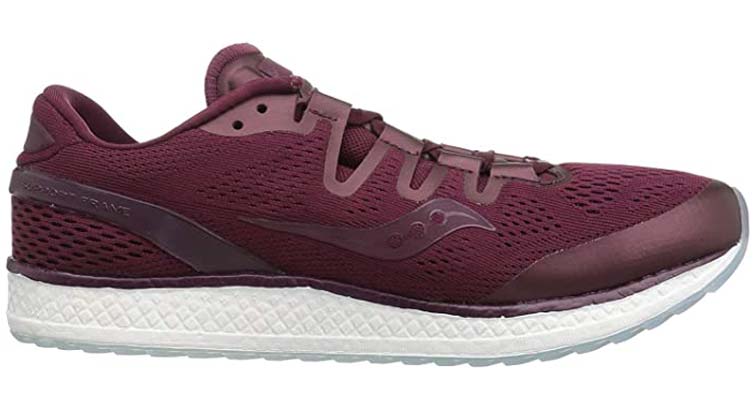 The Saucony Liberty ISO running shoe is a fast and active low-profile running sneaker that helps the overpronating runner stay on the steady course—providing an excellent running experience in a lightweight and very comfy running shoe. The cushioning of the Saucony Liberty running shoe has wrapped mesh support around the heel, built-in high pronation control, and excellent arch support, an essential component of good running shoes for flat feet. With Suconys unique Everrun sole throughout the entire shoe length, it offers a sturdy and stable feel. These shoes stand out from the rest with the breathable top mesh's fresh and sleek design.
Pros
Excellent support
Durable Sole
Cons
---
Best Running Shoes For Flat Feet
2022 – Women's
Altra Women's Paradigm Dynamic-Road Running Shoes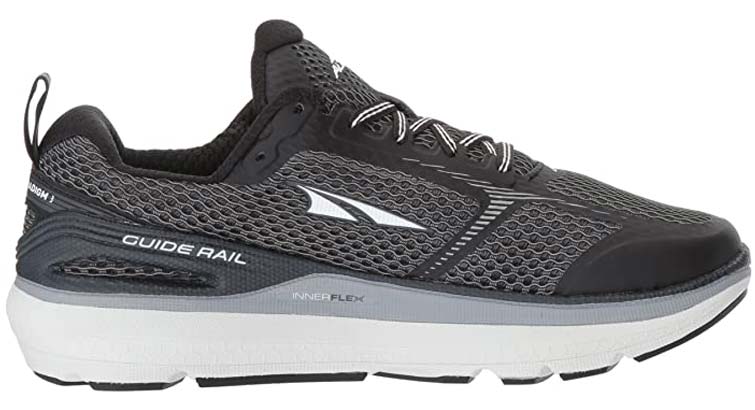 The Altra Paradigm 3.0 was constructed with no compromises; this running shoe has many comfort features making this shoe design a real crowd-pleaser. Designed for a woman's foot, the shoe has a generous toe box area which makes this shoe ideal for runners with flat feet and an excellent option for runners and walkers with bunions. You will love the Fit4Her™ technology and the Zero Drop platform that helps your feet's natural positioning while providing a low-impact landing that keeps pains away.
Pros
Cons
Some runners complain that the shoe looks a little clunky.
---
New Balance Women's 1540V2 Running Shoes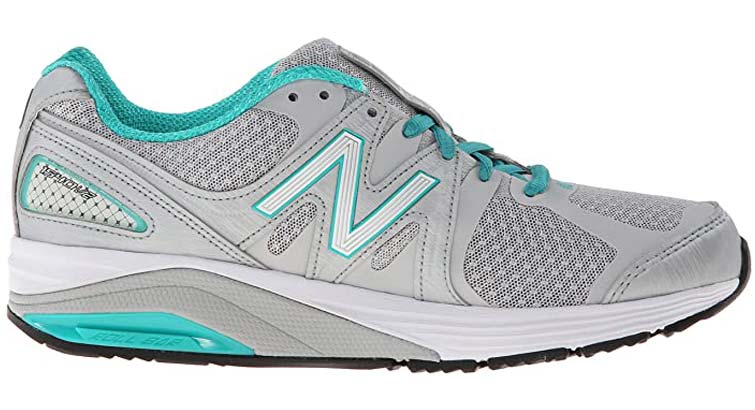 The runner's dream just improved with the New Balance 1540V2 shoe; Stability and Motion Control of the Rollbar Technology on both sides of the shoe will keep the feet moving out of your run, making these shoes ideal for walking shoes and flat feet with overpronation. The NDurance rubber cushions your feet; these shoes stand the time for miles of running. Providing extreme arch support and plenty of cushioning, this New Balance shoe gives excellent support and breathability, featuring a breathable mesh upper that offers a fresh and ventilated feel and keeps your feet securely in place. It provides a durable rubber outer sole that supplies plenty of traction and flexibility yet continues to allow for stable support.
Pros
Roomy toe box
Excellent support
Cons
Some runners find these shoes heavier than most
---
Brooks Adrenaline GTS Women's Road Running Shoes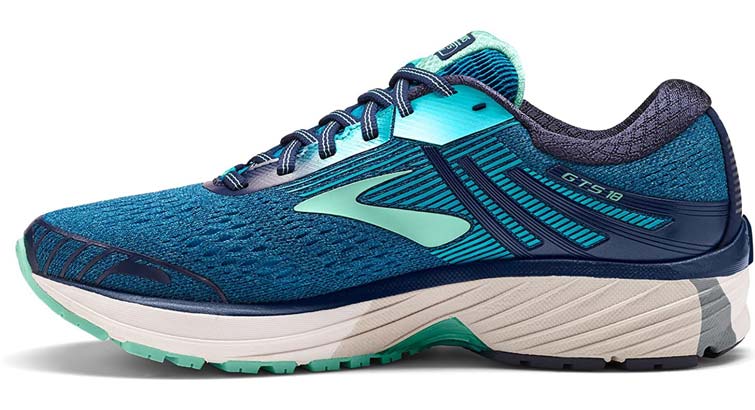 The Brooks Adrenaline 18 continues to hand off stability and motion control making the lightweight and fitted design an ideal option for low arch running shoes. No foot is too flat for the Adrenaline 18; with long-lasting BioMoGo DNA cushioned support and flexible responsiveness, these shoes will provide consistent heel-to-toe transitions. Encouraging your body's proper alignment with every step, the Progressive Diagonal Rollbar will help with heel and arch support. The 3D fit print and TPU saddle provide a neat fit around the heel and midfoot, keeping your feet steady all the way down to the roomy toe box and offering plenty of space for a comfortable fit on any run length. If it rain's while out on the run, never fret; the upper mesh material makes the Adrenaline 18 quick drying.
Pros
Substantial arch support
Cushioning provides for a comfortable ride
Cons
Not all runners like the upper mesh material
---
Mizuno Women's Wave Inspire Running Shoes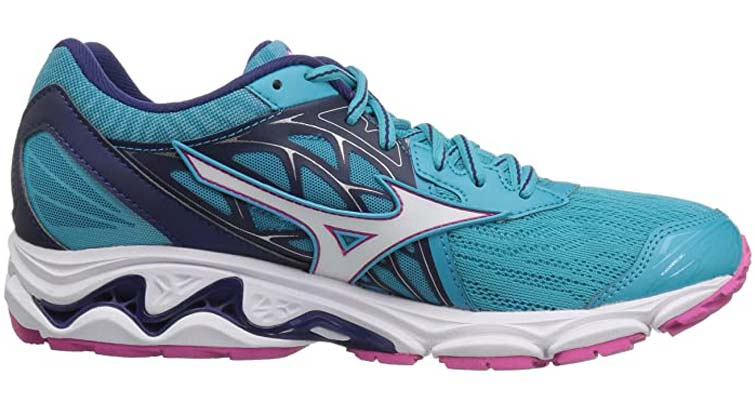 Mizuno Wave Inspire 14 is incredibly comfortable, featuring the INTERCOOLER mesh upper that provides an easy and secure fit that keeps you cool and dry all run long. DynaMotion Fit will move along with your feet throughout your run and has cushioned insole to help protect you from knee, back, and foot soreness and keep you going for miles.
Mizuno has added Cloud Wave Technology into these exceptional running sneakers with shock absorption and stability. The upper mesh design of the Mizuno Wave Inspire features a redesigned arch wrap that gives sturdy arch support to provide outstanding stability.
Among many stability features that make this Mizuno running shoe attractive is the X10 Outsole, durable rubber soles for extended wear, shock absorption, and smooth transition; these shoes will keep you on your keep all day.
Pros
Excellent stability throughout the entire shoe
Secure heel wrapping
Roomy toe box
---
New Balance Women's 1260v7 Running Shoes
The runners' dream shoe with great stability and cushioning into an already eye-catching sneaker. Perfect for any length of runs, these shoes provide great shock absorption with Nitrogen-infused FuelCell midsole cushioning; these shoes deliver your most stable runs yet. They keep you happy on your feet with the New Balance 1260 v7 has all the attributes of a smooth transition needed in a women's stability running shoe. A great fit, medial side support, and an integrated wedge providing firm midsole support allow unwanted foot movement, making these good shoes perfect for flat feet. These shoes are known for comfort, support, and bright and colorful combinations.
Pros
Great Stability Mechanics
Lightweight
Cons
Shoes can be on the small side; ordering half a size up is recommended.
---
Best Running Shoes For Flat Feet
The arch of your feet is the body's natural shock absorber. It would help if you had your sneakers to help alleviate the impact as you run with flat feet. Athletes with flat feet will inevitably overpronate, making exercising or running without the proper shoes a painful activity. Your running shoes are essential to your workout routine and should be your most critical investment. Buying the right shoes will help limit the number of foot, back, and knee problems and injuries. So if you choose a motion control running shoe or wear an orthotic insert, make sure that your shoes feature medial support along with plenty of cushioning, and stability.
Some of the links in this post are affiliate links. This means if you click a link and make a purchase we will receive an affiliate commission at no extra cost to you